Hello, and Welcome to my Web Site.
These few pages are dedicated to the 18th century Jewish Cemetery down Rinella street, in Kalkara, Malta. The cemetery is the resting place for a few members of the Maltese Jewish Community of these islands. The Jews of the islands had just gained their freedom from the oppressive rule of the Knights of Malta, which kept them as slaves ready for ransom to the highest bidder. They owe their liberty to Napoleon Bonaparte, the French Revolutionary who in the few days he stayed in Malta enacted countless laws which started the wave of freedom for these islands inhibitants.
This is an ongoing project and I hope you will enjoy your virtual visit, and be able to visit us from time to time as more information is being added on a regular basis.
Till then please look around and when you finish drop me a line. Till then Shalom or "Sliem" (Peace be with You) !
---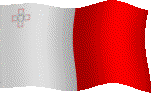 The Jews of Malta
Fgura My Home Town (In Maltese)
Re-Founding The Malta - Czech Society
The Maltese - Czech Society
Maltese - Czech Society's Newsletter The History of the Jews of Malta
The Difference Between Judaism and Catholicism
Malta - Israel Newsletter
Sign My Guestbook
View My Guestbook
---